Franco Valsecchi was born in Biella (Italy) on 16th May 1929.
He started art training at the studios of painters Guido Mosca, Cesare Maggi, Raffaele Pontecorvo, and of sculptor Antonio Zucconi. He attended the school for graphic design led by Armando Testa in Turin.
Valsecchi exhibited his first figurative works, reflecting the Piedmontese tradition, at the Leonardo da Vinci Gallery in Biella in 1944, at the Cologno Gallery in Biella in 1946 and at Promotrice di Belle Arti (Society for the Promotion of Fine Arts) in Turin.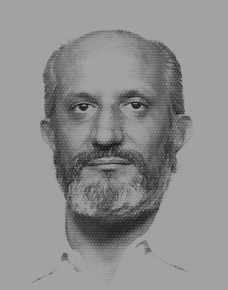 While working as a graphic designer, Valsecchi undertook a career as a painter. He moved to an abstract-geometric style in the 1960s with tempera Composizioni strutturali (Structural Compositions) displaying vivid chromatic features, sharp and neat graphics and suggesting a basic language for communicating inner thoughts. He held his first personal exhibition at the Franzp Gallery in Turin in 1970.
In the same year, with sophisticated taste and an innate sense of restraint, he took up the collage technique on mirror, in particular on glass. In his small collage pieces on mirror on "Me entity", the relation between the viewer and the work comes directly into play, as the viewer acquires an identity through self-reflection in the mirror.
Valsecchi's glass works named Situazioni (Situations) are poetic pieces featuring embryonic shapes stratified on several layers. By laying traumatically felt messages on a medium, Valsecchi features a problematic world. His deep, rigorous research focuses on the significance of image as an interface with the marks of the dominating advanced technological society.
They were shown at various collective exhibitions – at the Bottega d'Arte Sant'Ambroeus (Milan), the Doria and Due Colonne Galleries (Turin) and L'incontro Gallery (Borgomanero, Novara).
In this period, Valsecchi's works show the artist's shift to conceptualization.
In 1974 Valsecchi produced the Numeri Trauma (Trauma Numbers) suite, which features data processing by an alienated and alienating society. Obsessively repeated numbers printed on paper and transferred on cloth, as black-and-white signs and symbols, emphasise the alternation of positive and negative. The numbers are in an organising mind – the computer – outside of the human being and produce distress, reflecting the neurotic reality that surrounds human beings today.
Man is thus a hectic, powerful, alienated machinery.
Valsecchi exhibited his works in art shows, from New York International to Arte contemporanea (a Review of Contemporary Art ), to Torre Pellice (Turin) and in personal exhibitions at the Triade Gallery (Turin) and the Fumagalli Gallery (Bergamo).
Valsecchi's later works – similarly inspired by computers – show vegetals in a lab. They feature outlines patiently fashioned in the dark room, trees as black stains flaking off into pulsating grids, printed on glossy or standard paper and subsequently glued on cloth alongside graphs.
These are the Genesi (Genesis) pieces. They suggest a more forthcoming attitude – the pre-condition for a peaceful and constructive coexistence between machine and nature. The marks of a forsaken and violated nature are recovered, and foundations for hope for mankind are laid down.
One of the Genesi pieces earned Valsecchi the First Prize of the prestigious XIV Premi Internacional de Dibuix in Barcelona (Spain) in 1975, among artists from 32 countries. The prize was handed to him by Joan Miró.
The Genesi pieces are on display in Italy and Spain.
Valsecchi's research continued and developed with the Mutazione (Mutation) and Mutazione scrittura (Writing-Mutation) collages. Both feature machinery again and suggest an alternative interpretation of the use of the machine and of the results it allows to achieve. Pulsating grids become language – the A letter – evoking the dawning of a new language.
In the 1990s Valsecchi continued his explorations through a further cycle of Mutazioni (Mutations). Plants and inscriptions were almost wholly replaced by a (school)girl. In the images that seem to materialize from an old picture album, the silent dialogue of the characters expresses the questioning of mankind in a disturbing, unsettling way. Through which paths, through which identities does a human being's past and future tread?
In the late 1970s Valsecchi met Baba Bedi, a sociologist, philosopher, poet and founder of the Institute for inquiry into the unknown and the Centre for psychic art in New Delhi. Bedi, the theorist of Aquarian philosophy, had been living in Italy since 1972.
As Valsecchi's inner strains, as a man and as an artist, grew deeper and deeper, this encounter was critical for his development – in art and life.
An intense period began, as Valsecchi "widened his awareness sphere" thanks to Baba Bedi's teaching and guidance. Valsecchi began practicing the contemplation and psychic projection technique.
Psychic art is an artistic expression led by psychic sensitivity, an ability that allows one to perceive the unity of the whole and commands the development of the human being. A psychic work of art emits vibrations and acts as magnetic field. Observation unbound by intellectual involvement and from rational comprehension sends a powerful message.
Valsecchi's research increasingly shifted towards human well-being and people's way of life. His conceptual strive to reconcile machine-man-nature interlocked with concrete action to help human beings, each of us. Valsecchi's psychic art was presented at the International Congress between East and West (Milan) in 1981.
Using the coloured pencils technique Valsecchi created a set of therapeutic panels for unlocking, growing, stimulating, and featuring the planets' cycle.
In 1982 he published the book Arte psichica come terapia (Psychic Art as a Therapy) (L'Ariete publishers). The book is the outcome of a joint research project with psychologist Albania Tomassini.
Over several decades Valsecchi engaged in a variety of activities including courses, seminars, workshops as well as cooperation with teachers, psychologists, physicians and associations.
All along this path, the artist related to the people with a sense of responsibility. The people above all connected to his human dimension, as everyone could speak with their own voice.
Valsecchi produced a number of materials for psychic courses, such as Autobiography of the Self, Herbalism, Crystals, Physiognomonics, using diverse techniques such as coloured pencils, tempera or collage.
In 2005 the Piedmont Region sponsored a retrospective exhibition curated by Angelo Mistrangelo which encompassed Valsecchi's whole artistic opus.
In the same year Valsecchi presented Arte psichica come terapia and L'albero della psiche e altri percorsi (The Psyche Tree and other Paths) through an exhibition, a lecture and talks at Legolibri psicanalisi e dintorni (Turin).
In 2006 Valsecchi presented Poetica gestuale delle mani (A gestural poetics of hands) at the head office of Banca Sella in Turin. The outline of the artist's hands is not only a medium between the artist as an individual and the world, an element of first contact, a symbol, but also a matrix for reflecting on preventing the sense of reality from prevailing over the emotional sphere.
In 2013 Valsecchi was included in the publication Esprimere la luce (Expressing Light) on the 50th anniversary of Psychich Art by Istituto di Pedagogia Acquariana (Institute for Aquarian Pedagogy).
Intuition – meaning global perception – has been at the core of Valsecchi's art. Valsecchi's path should be seen as happening in a circular motion.
Valsecchi died on 16th February 2015.