Franco Valsecchi's full opus was presented at a retrospective exhibition sponsored by the Piedmont Region and curated by Angelo Mistrangelo in 2005 in Turin.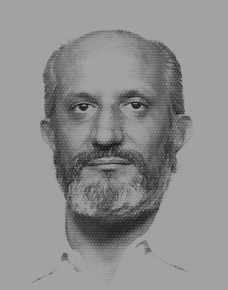 Valsecchi was born in Biella, Italy, in 1929. He held his first art exhibition in 1944.
His works show a research that started from the figurative dimension, shifted to the informal one and culminated in an analysis of the dominant advanced technological society with the Numeri Trauma (Trauma Numbers) collages of 1974.
The "Genesi" (Genesis) pieces, shifting from condemnation to computerised reprocessing – a precondition for creating order and tend towards a peaceful interaction between machine and nature – earned Valsecchi the First Prize at Joan Mirò's prestigious XIV Premi Internacional de Dibuix in Barcelona in 1975.
These were followed by the Mutazioni (Mutations), focusing on the identity of a new communication approach.
From the late Seventies onwards, after meeting the philosopher and sociologist Baba Bedi, Valsecchi refocused his research on psychic art as a therapy.
In 1982 he published the outcome of a research in the book Arte psichica come terapia (Psychic Art as a Therapy).
After featuring data processing in an alienated and alienating society, a violated nature that rejects the tragedy of existence, Valsecchi moved to mediation leading to a new genesis – key themes in his poetics – and eventually attained the psychic dimension. This dimension allows the human being to evolve and enables a holistic transformation process through an artistic experience that is inspired by the relationship between a human being's inner world and the surrounding reality.
Franco Valsecchi died in Turin in 2015.